I'm so excited about this Power of Three I can't begin to tell you. But I will. I'll begin to tell you and then I'll just tell you. I'm genuinely excited, can you tell?
Sarah Pinborough is one of the finest, smartest writers in the crime/thriller genre with a particular talent for endings which, in her two latest novels at least, are twistier than two tangled snakes playing Twister in a tornado. That's awful. Apologies. Like I said, excited…
It's tough enough for psyche-thriller writers to stand out in such a popular and crowded marketplace, possibly more than in any other genre. Ultimately, readers want to be surprised. The true test of a successful crime novel is one that outwits the reader, who will have been trying to guess the outcome from page one. Surprising us and creating a genuine sense of the unexpected is surely the biggest challenge for crime writers today. So many ideas have been done to death or repackaged and we readers are savvy, we can spot a formula a mile off, can't we?
What makes Pinborough so exciting is that somehow she still manages to stay ahead of the game. Her writing has this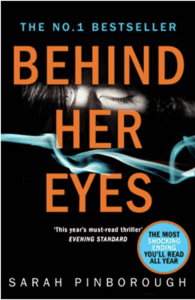 cool confidence and air of knowing about it, which is so much fun to read. Behind Her Eyes, which featured in my top ten reads of last year, caused a storm on social media, even prompting its own hashtag: #wtfthatending. Her latest, Cross Her Heart, I pre-ordered back in April and when it arrived in May I decided to save for holiday a few weeks later. One Sunday morning, however, I thought, I'll just peek at the opener, see what I'm in for… Less than 48 hours later I was done. Exhausted, satisfied, with aching stomach muscles, like I'd just eaten a huge meal.
Thanks so much Sarah, for agreeing to feature in this little series on my little blog. It's an absolute honour:
1. As a writer, what is your greatest fear?
I don't think there is a biggest fear per se, there is just THE FEAR, which underpins everything and encompasses everything. The fear of failing, the fear of being terrible, the fear of having to go back to getting a real job, the fear of losing a publisher – all of those things. Writing is such an up and down career that THE FEAR never really leaves. I tend to try to channel it into being better and working harder, and expanding my horizons by doing other things like TV/Film, changing genres, that sort of thing.
In a lot of ways THE FEAR is a good thing. It should drive every writer to be better.
2. What's the best piece of writing advice you've ever been given?
I'm not a great believer in writing advice – it's all so subjective. But the wisest thing someone told me once was that in this business it's not so much about getting published but about staying published. A lot of new writers think getting their first book out there seals a career, but it really doesn't. That's when the hard work begins. A book a year, worrying about sales, not doing anything outrageous that will embarrass your publisher… all that stuff!
3. What are your three favourite books and why?
Gosh, I don't know that I have three favourites. I have a lot of favourite books! The Long Walk by Stephen King as Richard Bachman, The Lion, The Witch and the Wardrobe are definitely two favourites… And then probably several John Wyndhams, or something by Jean Plaidy that I would have read when I was younger.
I think it's always the books we read when we were young that have the biggest emotional impact.
Sarah is on Twitter @SarahPinborough
Thanks so much for stopping by and reading. Did you know you can now listen to The Terrified Writer on the go? The Life is Scary podcast is available to stream and download on iTunes, Soundcloud and on the blog, here.
Ax