This week, a bunch of bloggers from Suffolk, myself included, highjacked the airwaves on Jon Wright's Tuesday Takeover on BBC Radio Suffolk. Set up and co-hosted by Gemma Scopes from How To Make Friends blog (and podcast), we talked about all aspects of friendship and loneliness, including facing your fears.
The episode is available to download here.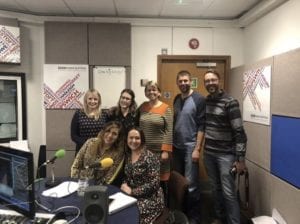 In the photo (l to r) standing: Cassie (My Thrifty Life blog by Cassiefairy), Georgia (See Suffolk blog), Sarah (Middle Age Ramblings blog), Jon Wright (BBC Radio Suffolk) and Andy (Unruly Print); seated: Gemma (How To Make Friends) and Me!
Thanks for stopping by and reading. You can listen to more of The Terrified Writer on the Life Is Scary podcast available on iTunes, Soundcloud and here on the blog.
Ax