On the eve of Fun Palaces, happening this weekend, I'm delighted to announce this week's Power of Three comes from Fun Palaces founder and co-director and human powerhouse Stella Duffy.
Stella has written sixteen novels (a review of her book, The Hidden Room is here), fourteen plays and over sixty-five short stories. She's a theatre director, performer and an associate artist at Improbable. She's also a regular speaker and campaigner around LGBTQ, women's and arts issues and was awarded the OBE for Services to the Arts in the Queen's Birthday Honours 2016.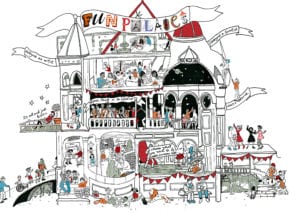 But apart from that, what does she do with her time?
Also, what the hell is a Fun Palace?
I'm glad you asked.
Fun Palaces is an ongoing campaign for cultural democracy, with an annual weekend of action every October.
Imagine massive weekend-long street parties run by communities for communities, where some people share their skills, hobbies and talents with other people, giving them the opportunity to try things they might never have tried before. That's what Fun Palaces are.
The Fun Palaces mantra is 'everyone is an artist, everyone a scientist' and they believe that the best people to create and share a local community's culture are the people of that community itself.
The reason I'm telling you all this is because I know first hand how powerful and brilliant Fun Palaces are, because I'm one of the volunteers that organises the one in our local town, Saxmundham. We held our first one last year, organised within about two weeks, on no budget, and it was fantastic. This weekend we had slightly longer to organise, still no money, but it's already bringing the community together and proving to be an even bigger success.
In other words, they are a good thing.
To find out if there's one near you, do a search on the Fun Palaces website. You never know, it might inspire you to organise one in your own patch next year (Hint: seriously, if you want to do this, get in touch and I'll give you some tips and point you in the right direction for help).
Anyway, speaking of good things, on with the show. Please welcome Stella Duffy with her Power of Three:
1. As a writer, my biggest fear is…
…not being able to write. Not emotionally, I've been there and I know it comes back. I mean physically. I've had two cancers and I hated the recovery time, am rubbish at resting and taking it easy. Both times I was at work on my laptop as soon as I was sitting upright. Writing is at my core. I don't like it if, for any reason (time, busy-ness, illness), I can't do it.
2. The best piece of writing advice I've been given is…
…my own advice to others! It's the only writing advice that works for me, therefore it is the best advice for me. It's
Write the fucking book.
Seriously, whatever it is, article, play, script, book, story – until there is a first draft I really have no idea what it's truly about, what the guts of the piece is, what the core of the work will be. Until there is a draft, there is nothing to make better. So my advice is write the fucking book. And then re-write the fucking book as many times as necessary until it is as good as you can make it. That might not be as good as someone else could make it, it might not be as good as you would make it in five years time, but it's your best work NOW. Then send it off. Then write the next fucking book.
3. My three favourite books and why are…
…ugh. Too hard. They change depending on what I need and how I feel. Three is impossible. However, some books I have loved and still suggest to others:
– Jeanette Winterson's The Passion. For the storytelling, the flow, the rhythm.
– anything by Ali Smith, because she is working the novel form like no-one else.
– A Place Called Winter by Patrick Gale, because it's bloody lovely.
– A Prayer for Owen Meany by John Irving for a Very Good Cry.
– Riddley Walker by Russell Hoban because it is a book too few of us know, but all who do hold it close to our heart and spirit.
BIG THANKS to Stella for taking time out of her crazy schedule to answer these questions. Thank you for stopping by and reading. Please leave any comments or questions below. If you like this post, please subscribe to the blog and you'll be notified about posts as they are published (NB if you do this from a device and don't get the confirmation email, please let me know, we've been having a few technical issues with this. Yawn).
Did you know you can now listen to The Terrified Writer on the go? On the Life Is Scary podcast I discuss all things writerly, the fears, doubts and insecurities that can hold us back from achieving our creative goals, how we can combat them and even turn them around to our advantage. You can download it, subscribe so you don't miss an episode and, if you like it, it would be amazing if you could leave a review on iTunes. Thanks again.
See you soon, Ax